The traveling golf enthusiast's trusted source for perfect places to Play and Stay. Golf venues are highly rated, full service offering state of the art rental equipment. Hotel accommodations compliment the golf experience.




Inquire about Golf Along the Way special offers and packages.

This Arizona treasure was established in the 1930s, a time when golf courses did not get built through dense housing developments, and certainly not with tight, target fairways. At the Wigwam, the golf courses have remained at the top of the list. This jewel of the desert is among the Southwest's last remaining golf resorts built for a pure golf experience. Canals, streams and lakes cascade through the journey. The shadows cast on greens and bunkers are from majestic parkland trees, not multi-story resort buildings.

The Wigwam's three 18-hole championship golf courses offer a diversity that cannot be matched by any other Arizona resort. Here, the golf enthusiast has their pick of not just one or two courses, but three 18-hole courses - 54 holes of championship golf including two courses designed by the legendary Robert Trent Jones, Sr. And, in true Wigwam style, each course - The Gold, Patriot and Heritage offers a unique challenge that adds spice and variety to one's stay at this timeless and relaxing retreat.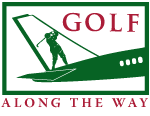 GOLF ALONG THE WAY

info@golfalongtheway.com
(888)-725-GATW(4289)
"Finally, a reliable resource to guide golfers to exceptional courses when traveling.  I know I can count on Golf Along the Way's listings in American Way Magazine to identify where I want to stay and the course I want to play.'
Jack Malcarne, Member
Blue Hills Country Club
Kansas City, Missouri