The traveling golf enthusiast's trusted source for perfect places to Play and Stay. Golf venues are highly rated, full service offering state of the art rental equipment. Hotel accommodations compliment the golf experience.




Inquire about Golf Along the Way special offers and packages.

Fossil Trace Golf Club is one of Denver Colorado's premier public golf courses designed by renowned golf course architect Jim Engh. Located in Golden, Colorado - Fossil Trace Golf Club is nestled adjacent to the foothills of the Rocky Mountains and only 15-minutes from downtown Denver, Colorado. In its short history, the golf course has enjoyed tremendous success and is considered one the finest golf courses and golf experiences available in Denver and all of Colorado. The golf course opened in July of 2003, approximately 64-million years after the first dinosaurs walked where holes 11 through 15 now sit. Triceratops footprints, as well as other prehistoric creatures' fossils can be viewed adjacent to the golf courses 12th green fossils uncovered on the golf course. Take a golf vacation in Denver, Colorado and experience one of Denver's true "must play" golf courses, Fossil Trace Golf Club.
For tee-times, 303.277.8750 or visit fossiltrace.com.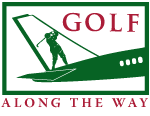 GOLF ALONG THE WAY

info@golfalongtheway.com
(888)-725-GATW(4289)
"Finally, a reliable resource to guide golfers to exceptional courses when traveling.  I know I can count on Golf Along the Way's listings in American Way Magazine to identify where I want to stay and the course I want to play.'
Jack Malcarne, Member
Blue Hills Country Club
Kansas City, Missouri